Lieutenant Commander David Skii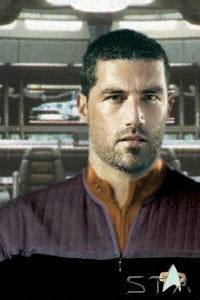 Character Information
Name
David John Skii
Rank
Lieutenant Commander
Position
Chief Operations Officer
Gender
Male
Species
Human
Age
25
Physical Appearance
Height
5' 10"
Weight
205 lbs.
Eye Color
Green
Hair Color
Light Brown
Physical Description
The first thing you notice about David is his green eyes. They seem to have a deep determination about them. He has a baby face that makes him look younger then his 30 years. He likes to stay clean cut, his hair always cut in a short spike and he is usually clean shaved but from time to time he will wear a gotee or beard.
He likes to take part in many sports that keep him active. He is not overly muscular but enough to be fit. David has said if you look up average and cute you would find his smiling face there.
Personality & Traits
General Overview
David Skii (pronouced SKI with one I) grew up in the military life. His is disciplined and takes orders well. He is a person you can depend on to get the job done and if your in a messy situation he will have your back. He will often go above and beyond the call of duty.
He has a quick wit and a good seance of humor. He is a person that will make you smile when your down but also let you know when you screwed up. Biting his tongue is something he just doesn't do. He is passionate about what he is doing and takes pride in what he does.
Strengths & Weaknesses
David seemed to be flying things from when he was born and this has helped make him an excellent pilot. Always able to look at a situation and see the best action has helped save the lives of his crew and even himself on several occasions.
Sometimes he is too eager and has on more then one occasion stepped on a few toes. While he takes orders well he also likes to give them but knows not to overstep his rank. David's parents death still leaves a sore spot on him.
Ambitions
He has a love for flying but wants to explore space. He wishes to move up the ranks and have his own command one day. Maybe find the right woman and have a family.
Hobbies & Interests
Klingon and human fighting styles, Playing sports, and Reading and drawing. He likes to tinker with things and see if they can be made better or improved. Currently he is working on a new phaser rifle design.
Languages
Human, Some Klingon
Family
Father
Commander David Skii
Mother
Lieutenant Liz Skii
Brother(s)
Lieutenant Glenn Skii and Alan Skii
Sister(s)
Cassi and Shelly Skii
Spouse
None
Children
None
Other Family
Too many to list.
History
David was born on Earth in the United States but grew up a Starfleet brat. Traveling all over the Galaxy with his parents until he was old enough to go to Starfleet himself. Entering Starfleet as soon as he could he wanted to fallow in the foot steps of his father, who commaned a starship.

While in Starfleet Acadimy he was a good student, he followed the rules and only got repremanded once. Even tho he doesnt have great math skills his knowledge of engineering is very good and he showed an outstanding ability to fly shuttlecraft. After graduating 5Th in his class he went on to Fighter Pilot school and quickly got the respect and admiration of his instructors. He graduated at the top of his class and as reward he picked where he wanted to be stationed. While in flight school he learned of his parents death when the USS Ohio was destroyed. After flight school he quickly asked for front line duty and knowing his skills and the need for good pilots his request was granted. He carried out various poilting missions with great success and sometimes volentierd for the ones that were a risk to himself. Going on away missions and completing almost impossible tasked earned him the respect of other pilots and crew men. He has earned everything that was given to him including the rank of Lieutanant.

Nearing the end of the war his brother's ship The USS Wandering Explorer went missing with all hands and eventually was presumed destroyed. David vowed to look one last time when a chance was given. That chance came per a temporary reassignment from Starfleet. David found himself in command of the Midnight, the ship sent to find the Wandering Explorer, after the Captain was killed and the ships XO went missing. With the help of the USS Tigris and crew, David was able to save his brother and return the Wondering Explorer to the Federation. (Mission Details, Classified)

After the war, and a reduction in rank, (Reasons Classified) the need for fighter pilots lessened and David made the transfer to piloting star ships. To this day he is one of the best fighter pilots in the fleet and is soon proving to be one of the top star ship pilots.

He completed star ship training his fist assignment is onboard the USS Frontier. He served well in the position keeping the ship out of danger when needed. His engineering skills could not be overlooked however. Seeing a need to be filled at the Ops station David asked for and was granted a transfer to Operations. He now serves as the Chief Operations Officer on the Frontier.
Service Record
Name David John Skii
Position Chief Operations Officer
Rank Lieutenant Commander
Other Positions Held:
Second Officer, USS Frontier
Chief Engineering Officer
Assistant Flight Control Officer
Fighter Wing Squadron Leader

David was born on Earth in the United States but grew up a Starfleet brat. Traveling all over the Galaxy with his parents until he was old enough to go to Starfleet himself. Entering Starfleet as soon as he could he wanted to fallow in the foot steps of his father, who commaned a starship.

While in Starfleet Acadimy he was a good student, he followed the rules and only got repremanded once. Even tho he doesnt have great math skills his knowledge of engineering is very good and he showed an outstanding ability to fly shuttlecraft. After graduating 5Th in his class he went on to Fighter Pilot school and quickly got the respect and admiration of his instructors. He graduated at the top of his class and as reward he picked where he wanted to be stationed. While in flight school he learned of his parents death when the USS Ohio was destroyed. After flight school he quickly asked for front line duty and knowing his skills and the need for good pilots his request was granted. He carried out various poilting missions with great success and sometimes volentierd for the ones that were a risk to himself. Going on away missions and completing almost impossible tasked earned him the respect of other pilots and crew men. He has earned everything that was given to him including the rank of Lieutanant.

Nearing the end of the war his brother's ship The USS Wandering Explorer went missing with all hands and eventually was presumed destroyed. David vowed to look one last time when a chance was given. That chance came per a temporary reassignment from Starfleet. David found himself in command of the Midnight, the ship sent to find the Wandering Explorer, after the Captain was killed and the ships XO went missing. With the help of the USS Tigris and crew, David was able to save his brother and return the Wondering Explorer to the Federation. (Mission Details, Classified)

After the war, and a reduction in rank, (Reasons Classified) the need for fighter pilots lessened and David made the transfer to piloting star ships. To this day he is one of the best fighter pilots in the fleet and is soon proving to be one of the top star ship pilots.

He completed star ship training his fist assignment is onboard the USS Frontier. He served well in the position keeping the ship out of danger when needed. His engineering skills could not be overlooked however. Seeing a need to be filled at the Ops station David asked for and was granted a transfer to Operations. He served as the Chief Operations Officer on the Frontier, and then eventually was asked to fill the Second Officer roll as well. David helped with the decommissioning of the USS Frontier. Currently awaits next assignment.

Service Record Service Record Breakdown:

Starfleet Academy- Graduated fifth in class.

Shuttle/Fighter Pilot School- Graduated first. Promoted to Ensign.

Assigned to 'Geeen Knight' Squadron.

Promoted to Lieutenat and given squadron command of the 'Rough Ridders'.

Demoted back to Ensgin (CLASSIFIED)

Enlisted in to Starship Pilot Academy- Graduated second.

Assigned Flight Control Officer USS Frontier.

Reassigned Chief Operations Officer, USS Frontier.

2385, December - Promoted to Lieutenant JG.

2386, February - Assigned Chief Operations Officer, USS Valorous
Awards
No Awards
Posting Activity
Recent Posts [ Show All Posts ]
Recent Logs [ Show All Logs ]
No Logs Recorded