Captain Joe Boston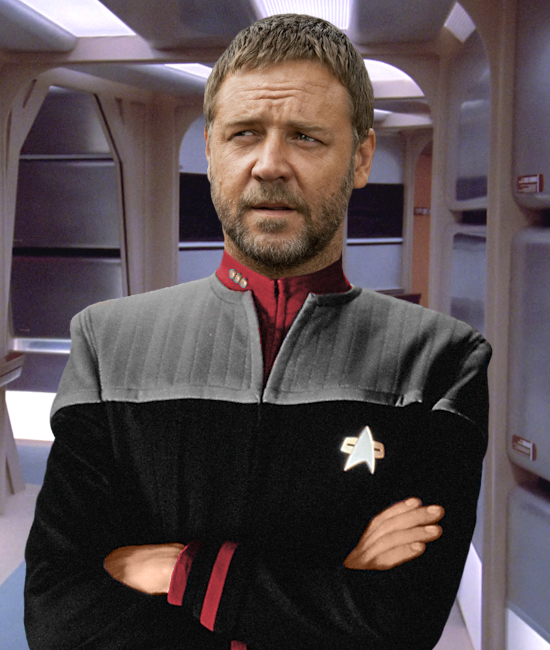 Character Information
Name
Joe Robert Boston
Rank
Captain
Position
Commanding Officer
Gender
Male
Species
Human
Age
40
Physical Appearance
Height
6' 2"
Weight
195 lbs.
Eye Color
Green
Hair Color
Black going Grey
Physical Description
Joseph "Joe" Boston is a tall man standing at six feet two inches and he keeps his one hundred ninety five-pound body trim by running cross-country and playing good old-fashioned baseball or football. His thick black hair and beard has started going gray all over, giving him an appearance that he is older then his forty years of age. His nose is just a hint on the large side and was a joke in school till it was broken a couple of times. Now it's just a 'little crooked' he will say. His green eyes are still bright and the hint of wrinkles around them gives him a pleasant appearance.
Personality & Traits
General Overview
His attitude is one that is pleasant and diplomatic but is very serious when it comes to getting the job done. In his experience is you get more done with some kindness then with a whip. There are times when he is too serious.

Strengths & Weaknesses
He is skilled in Engineering and very good at defuseing situations. Very good at looking at a situation and making the right decision. Has some weakness in his Science.
Ambitions
To meet new races, make allies, and protect the Federation. He wants to explore new places maybe even a new planet where no one has been before.
Hobbies & Interests
He likes to exploer and see new and interesting sites. He like to be "hands on" and will rool up his sleeves to help fix anything.
Languages
Federation Standard.
Family
Father
Rear Admiral Robert Boston (Retired)
Mother
Stephanie Boston
Brother(s)
Sister(s)
Rita, Dana, and Christy Boston.
Spouse
None
Children
None
Other Family
Aunts, Uncles, nices and nepews. Joe has a big family.
History
Joe Robert Boston was born near Cleveland, Ohio, in the United States. He is the explorer with a handy man thrown in and has a love for exploring and going where no one has been before. He likes to disassemble and reassemble machinery just to see how it works. His mother had yelled at him and told him to fix several things around their home that he had dismantled. His father figured he got it from him because he worked in the shipyards. So to keep his son safe, and his wife happy he started taking small or damaged parts for his son to "play" with. He was truly impressed when his son fixed a part that was thought damaged beyond repair.

Joe has a tendency to look out for others. Being the oldest and only son to his three other sisters could be a reason why. He likes to keep the mood light but if someone screws up he lets them know. In school and the Academy he had a love for running and baseball, doing well in both, as his parents will show you the awards.

Growing up Joe was the one who was expected to keep his sisterís in-line. Getting people out of trouble became one of his strong points. He was a good student in school and it showed in the Academy. He accelled in his engineering skills and at tactical but had problems in psychology. His thoughts were that people shouldn't mess with each otherís minds. Often he would miss routine counseling sessions till reprimanded.

His time at the Academy was well spent; he helped others needing help and was mostly a bookworm. He couldn't wait to explore space so he wasn't going to let his grades hold him back from doing so. As a result Joe graduated near the top of his class.

Family:
His Dad, Rear Admiral Robert Boston (Retired) Lived for working at the Utopia Planitia Shipyards. It was there he was building and repairing or redesigning ships but always made time for his family. Robert met his wife Stephanie Larson, A starship designer from Mars, when sharing a shuttle ride going back to Earth. Robert was forced to make an emergency landing in the North Pole and while attempting to "show off" how to repair the shuttle he accidentally electrocuted himself. From then on the two have been in much love.

Their oldest boy Joe was to go into Starfleet as soon as he could. There twin middle daughters, Rita and Dana were always getting into trouble growing up and Joe would usually be the one to bail them out. The two went into fashion design and own their own company and are currently raising their own families. Finally the youngest, Christy shared a love of space travel like her big brother. Often called the tomboy she wanted to do what big brother was doing. As a result she too is in Starfleet as a Science Officer.

The Boston family is a close family but has had plenty of arguments. They are known for their 'reunion partiesí where all the family, friends, and crews are invited every other year.


Service Record
Service Record break down:
Graduated Starfleet Academy near the top of his class, Promoted to
Ensign.
Assigned to USS Archer as Flight Control Officer.
Promoted to Lieutenant JG, USS Archer.
Promoted to Lieutenant and transferred to USS Britannia as Assistant
Chief Engineering Officer.
Promoted to Engineering Officer, USS Britannia.
Promoted to Lieutenant Commander and assigned to USS Austin as Executive Officer.
Assisted Decom. of USS Austin.

Service History Highlights:
While on the Archer he was exploring planet 22799-2 and found a lost
city. Received a reprimand for not waiting for away team to arrive before
entering.
While doing a study on a red star the navigational controls were lost.
Joe's quick actions and modifications saved the ship. The Captain
promoted him and saw him excelling in engineering. Per the Captain's request
he was reassigned to engineering.
Once becoming quickly established in engineering Joe was reassigned to
the USS Britannia. He did not get off to a good start with the Chief
Engineer but won him over when he made some energy saving adjustments to
the ship. He was promoted to Lieutenant and assigned as the Assistant
Chief Engineering Officer.
During a battle in the Dominion War the Britannia's engineering section
was damaged and the Chief Engineer was severely wounded. Joe kept the
Britannia together in-order for her to retreat for repairs. Due to his
injuries the Chief engineer was unable to return to active duty and Joe
was promoted to Chief Engineer. The two are still friends.
During the battle of Cardassia the Britannia was severely damaged and
almost destroyed but Joe's quick actions of dumping the warp core saved
the ship even though the end result the Britannia would have to be
decommissioned and then scraped.
Joe had achieved the rank of Lieutenant Commander and was assigned to
the USS Austin as the XO. His success on completing away missions and
his diplomatic skills did not go unnoticed. He even stopped a civil war
from breaking out.
Currently he is a Lt. Commander after the Austin was decommissioned and awaits his first command per his old CO recomendation.
Given Command of the USS Tigris.
Promoted to Captain while on USS Tigris.

Awards

| | | |
| --- | --- | --- |
| | 3 Month Service Cross | |
| | 6 Month Service Cross | |
| | 1 Year Service Cross | |
| | Action Award | For those who write thrilling action-filled posts |
| | 2 Year Service Cross | |

Posting Activity
Recent Posts [ Show All Posts ]
Recent Logs [ Show All Logs ]